한국기독교교회협의회(NCCK), 세계교회협의회(WCC)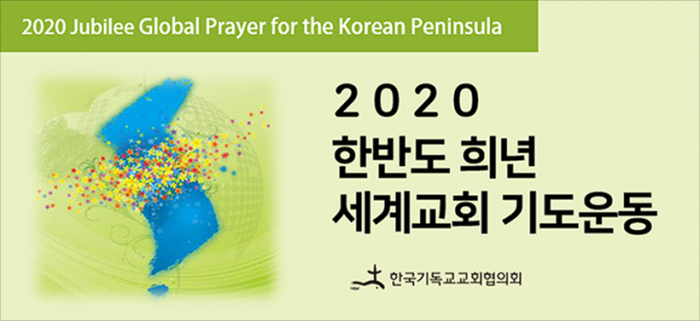 * Korean (Above) - English (Below)
7월 4주
한반도 평화를 위한 기도 48
- 한미미, 세계YWCA부회장
평화의 주님!
먼저 저희들을 이 세상에 주님의 자녀이자 화평케 하는 자들(peacemaker)로 불러 주셔서 감사합니다.

그러나 현실은 화평케 하는 자의 본분을 다 하지 못하고
오히려 평화 파괴자로 변질되어가는 저희들의 모습을 보면서 용서를 구합니다!

주님의 평화는 우리의 힘으로, 우리에 능력으로,
우리의 노력으로 이루어지는 것이 아님을 고백하며
다시 새로운 마음으로 시작하게 하소서.

한반도가 한국 전쟁으로 인해 분단과 분열 그리고 분쟁으로
지금까지 고통 받고 있는 세월이 70년이 넘었습니다.


언제까지 눈물과 혐오, 의심과 불안 속에서
끝나지 않는 한국 전쟁을 두려워하며 살아야 합니까?

오직 주님만이 아직도 진행 중인 전쟁의 사슬에서 자유롭게 해 주실 수 있기를 알기에
우리는 지금 기도합니다! 소망합니다! 그리고 믿습니다!

고통 속에 아파하는 한반도를 치유해 주시고 회복시켜 주시고 다시 세워주시옵소서!

눈물이 위로로, 혐오가 사랑으로, 의심이 믿음으로,
불안이 평안으로, 고통이 기쁨으로 전환 되는
새로운 평화의 역사가 이루어 지길 기대하며 기도하며 기다립니다!

그날을 위해 주님의 화평을 만드는 자들로 주님과 함께 일하는 우리 모두가 되게 하소서!

예수그리스도 이름으로 기도 드립니다. 아멘!
Prayer for Peace 48
- Mimi Han, Vice Moderator, World YWCA
Lord of Peace!
Thank you for calling us as your children to be peacemakers for this world.

Lord, despite your calling for us to become messengers of your peace,
we have often misused the end goal of peace to promote and justify violence in the process. 
–Please forgive us our sins!

We confess to you, Lord,
that we cannot make peace by our own will, by our own power, or by our own efforts.

It's been over 70 years since the division of Korea.
Our peninsula has suffered from deeply engrained doubt, fear, and anxiety.
How long, Lord, are we to live with this pain of the ongoing Korean War?

Yet, because of you Lord, we can hope! We pray! And we believe!
Only you, Lord, can free us from this chain of continuing cycle of hatred and violence, 
Only you, Lord, can recover and restore us
from this deep scar of unceasing war and division!

Lord of Peace!
Transform hatred to love, doubt to trust,
anxiety to security, and pain to joy in your name!

Let us proclaim and commit ourselves
to be peacemakers of Korean Peninsula and World!

I pray all this in the strong name of Jesus Christ, our Prince of Peace. Amen.


---
한국기독교교회협의회(NCCK)는 지난 68회 정기총회에서 "평화를 이루기까지 있는 힘을 다할 것"(시 34:14)을 다짐하고, 한국전쟁 발발 70년을 맞는 올해 2020년을 한반도에서 전쟁을 종식하고 평화협정을 실현하는 "희년의 해"로 선포하였습니다.

이 희년운동의 일환으로 세계교회협의회 (WCC)와 함께 3월 1일부터 8월 15일까지 "한반도평화를 위한 세계기도운동"을 전개하오니, 이번 주부터 매주 보내드리는 기도문 (혹은 신앙간증문)을 가지고 교회와 가정, 직장과 각 자의 삶의 자리에서 이 기도운동에 적극 참여하여 주시기 바랍니다.