한국기독교교회협의회(NCCK), 세계교회협의회(WCC)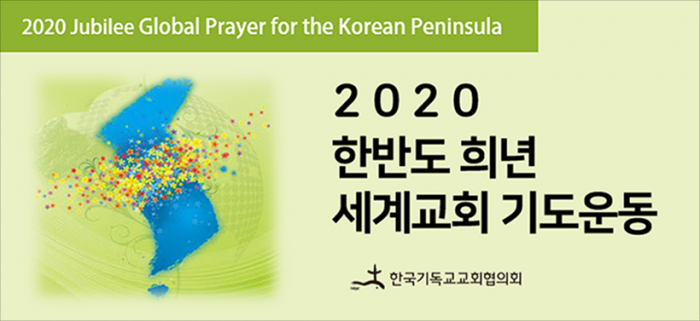 * Korean (Above) - English (Below)
8월 1주
한반도 평화를 위한 기도 50
데트레브 크노헤 목사, 독일 헤센나사우 주교회 에큐메니칼 총무
주님, 우리의 삶에 베푸시는 당신의 도움과
우리 인생의 아름다운 면과 어두운 면 모두를 인해 주님께 감사드립니다.
주님은 단순한 생존 이상의 삶을 약속 하십니다.
하나님, 한국교회와 전 세계 에큐메니컬 공동체에서,
평화와 정의, 사람들의 존엄한 삶의 환경을 위해 헌신하는
모든 이들에게 힘을 주시길 부탁 드립니다.
특히 한반도에 평화의 빛을 비춰주시기를,
한반도 평화통일에 대한 희망의 표지를 주시기를 기도합니다.
경제적, 정치적 결정을 내리는 모든 사람들로 하여금
전 세계 사람들이 삶의 충만함을 나눌 수 있도록,
새로운 비전과 지혜를 개발하도록 해주십시오. 아멘!
Prayer for Peace 50
Rev. Detlev Knoche, Secretary, Ecumenical Center in Hessen und Nassau
Lord, we thank you for your support in our lives,
for both the beautiful and the dark sides of life.
You promise more than just bare survival.
We ask you to give strength to all those in the Korean
Churches and in our worldwide ecumenical fellowship
who are committed to peace, justice
and dignified living conditions for people.
Especially we pray for a light of peace for the Korean Peninsula
and signs of hope for a peaceful reunification of the Korean Peninsula.
Let all those who make economic and political decisions
develop new visions and strategies
so that people all over the world may share in the fullness of life.
Amen!
---
한국기독교교회협의회(NCCK)는 지난 68회 정기총회에서 "평화를 이루기까지 있는 힘을 다할 것"(시 34:14)을 다짐하고, 한국전쟁 발발 70년을 맞는 올해 2020년을 한반도에서 전쟁을 종식하고 평화협정을 실현하는 "희년의 해"로 선포하였습니다.

이 희년운동의 일환으로 세계교회협의회 (WCC)와 함께 3월 1일부터 8월 15일까지 "한반도평화를 위한 세계기도운동"을 전개하오니, 이번 주부터 매주 보내드리는 기도문 (혹은 신앙간증문)을 가지고 교회와 가정, 직장과 각 자의 삶의 자리에서 이 기도운동에 적극 참여하여 주시기 바랍니다.